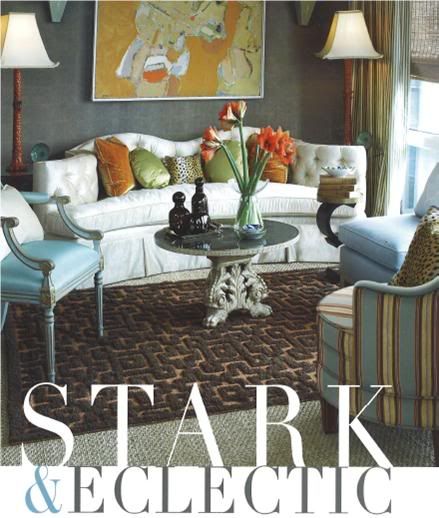 A few weekends ago, I visited Charlotte for the weekend and ventured into the Stark Carpet Showroom. Searching for the perfect living room rug for a client (with the inspirational Clarence House Fabric in hand), I asked Carpet connoisseur, Tim Cohen for his thoughts—


All of the sisals, cowhides, and Tibetan rug solutions we came up with are beautiful, but speak different languages as far as aesthetics go.
Selection No. 1: Stark's Natura Sisal in Gold, bound in a black cotton border, layered with a beautiful zebra printed cow hide. To me it says: this room is casual, earthy, and textural, with a bold splash.
Tim had the following to say about the practicality of this solution:
"Sisal fiber does not clean that easy but the secret is using a sisal that is forgiving by it's pattern, texture and color. When you have that, sisal can be the greatest catalyst for a space by being neutral yet having a voice."

of adding the cow hide rug to the mix:
"[Cow] hides are easy to live with because spills just bead on the surface , remember the animal lives outside and water just runs off it's back. "

Selection No. 2: A beautiful Tibetan rug in a traditional trellis pattern. This rug is rooted in tradition- but the open design (we'd call it the abundance of negative space) allows a room where it is placed to be layered with more pattern.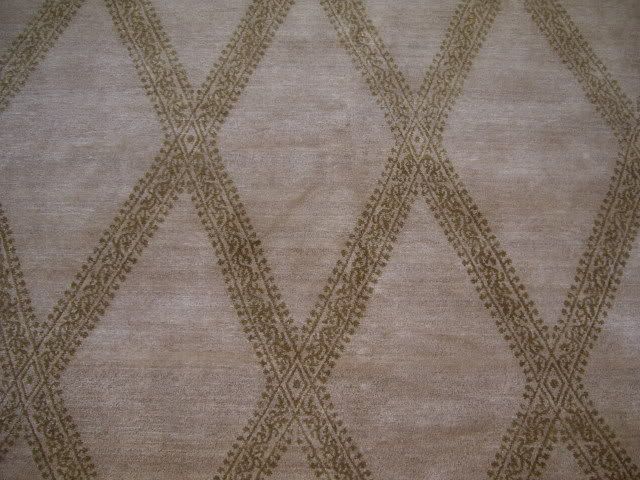 Selection No. 3
: A contemporary gold dotted on deep aqua field. This rug changes the aesthetic entirely—truly a conversation starting rug. "Playful" comes to mind.
As we discussed my multiple choices in rugs (and the mood each selection set), Tim left me with these words of wisdom, "Tibetan rugs are hand knotted in mostly transitional designs so they are easy to fit into a room scheme today as so many people are mixing contemporary furnishings with tradition. They last forever and the wool is exceptional so it is easy to clean. "
Which rug selection do you prefer? What statement does your rug say about you?